A week to go until we can reopen!  In the meantime, here's a couple of garland ideas to keep you busy and get prepared for Christmas.  These work well both as presents to gift, or make some to decorate your house, tree, garden or wherever!
Felt Bunting
You will need:   felt sheets, half inch tape, scissors, needle and thread or a sewing machine.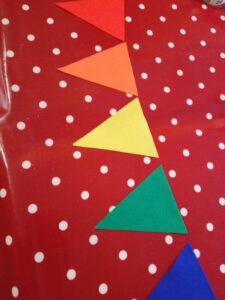 Cut out your felt triangles   and arrange.  Rainbow as shown, or go scandi Christmas with red, white and green, or celebrate a new baby with pastel colours.  Cut as many as you need.
Fold over the end of your tape to make a loop.  This keeps the ends neat.  If you need to tie it around something, use a seperate bit of string, ribbon or elastic band to secure.
Fold the tape over to catch the felt triangle within the tape. Pin to secure.  You could iron the tape in half if you wish for a sharper guideline.
If you have a sewing machine, my top tip is to use a ZIG ZAG stitch to make sure you capture the binding tape on the reverse.  I find it a total nightmare trying to catch the tape on the backside if i sew straight stitch.  Of course if you are hand sewing, you should be able to turn your work and see where you are going.
Make the felt bunting as long as you require.
Pom pom garland
This pom pom garland is a lot of fun to make.  You can put as many or as few pom poms as you like on your garland.  This one, made by Freya has space and pegs for interspersing with photographs.  What a great idea!
I will show you how to use a pom pom maker to create your own winter garland.
These are wooden pom pom makers not the usual circular ones. Simply wrap your yarn around the forky bits and tie tight to secure.